AAUW of Arizona Fall Forum 2019
AAUW of Arizona Offers Sustenance for Mind and Body
The 2019 Fall Forum hosted by Northwest Valley Branch was one of the best attended with 115 registrants. Jan Bobbett, Tillie Fortner, Mary Humecke, Margaret Noser and Sara Wolters were among those numbers as they joined other branch members and representatives from numerous organizations. Key speakers filled the day with important reports and announcements.
Katie Hobbs, Arizona Secretary of State, recounted all the successful Arizona women over the years and that it continues to be 'important for women to be at the table where decisions are being made.' She considers protecting the core of our democracy and celebrating the diversity of our state as two important roles of her position. And, of course, voting security is primary, going into an election year. She reviewed the Mail-In Ballot process and reminded us that we can be notified when our ballot is received and counted. The process is transparent and cameras are available to watch the vote counting. She reminded us that the deadline to vote in the March Presidential Preference Election is February 18, 2020.
"Important for women to be at the table where decisions are being made." – Katie Hobbs, AZ Sec of State
Kendra Davis, AAUW Senior VP, was excited to share the successes of AAUW over the past year and plans for future action.
Proud AAUW Successes:
✦ AAUW led the push for the US Paycheck Fairness Act to be passed in the U.S. House of Representatives.
✦ Eleven states have passed fair pay laws.
✦ AAUW partnered with New York City to train 10,000 women in salary negotiations via AAUW's Work Smart program.
✦ AAUW has successfully completed the first phase of the Coca Cola $500,000 grant, Empowering Economic Equity for Women, to promote salary negotiations utilizing AAUW Work Smart. So far 102,700 women have completed the program. AAUW is excited to reveal that Coca Cola has presented AAUW with a second $500,000 grant for the upcoming year focusing on low-wage women.
✦ The NCCWSL held last May was the 4th largest in its 34-year history.
✦ AAUW reached 14 million people through more than 1200 national media articles which demonstrates AAUW as an established expert in women's issues and recognition of AAUW's mission.
✦ A new National website is in progress with hopes of release in early 2020 to increase ease of use and more effective sharing of information.
✦ Engaging new audiences through the creation of the AAUW Equity Network. (More details below)
Current AAUW Programs and Goals:
✦Pay equity by 2030 continues to be a major goal for AAUW. The pay gap accumulates over years impacting even women's Social Security income. Although 57% of college graduates are now women, they face much larger student debt than men. As Work Smart now has a free On-Line version, branches are encouraged to coordinate with their local libraries to utilize and promote AAUW in their communities.
✦The Equity Network is a pilot designed to appeal to younger women who are not joiners; thus no dues but donations are welcomed. The Network will provide access to a community of experts and allies; promote equity action discussion; and professional skills' development.
✦A new survey of seniors on sexual harassment in later years is also in the works.
"Pay Equity will continue to be an AAUW priority until the gap is fully eliminated." – The Simple Truth About the Gender Pay Gap, Fall 2018 Edition
AAUW is one of the largest and oldest women's organizations in U.S. and we will have our fellowships and grants for years to come, however to be able to be effective in today's fast-moving world it is critical to have funds available without restrictions. Because Greatest Needs funding is unrestricted, it gives AAUW the most flexibility to address the challenges today's women face and seek new programs and opportunities. Supporters are encouraged to select AAUW Greatest Needs Fund when making their donations.
Chyna Rendon, a 2019 recipient of a NCCWSL scholarship, shared her experiences at the Conference in Maryland and its impact on her leadership skills. She is a recent grad from Estrella Mountain Community College and is currently enrolled at ASU in Veterinary Science.
Higher Education in Arizona Panel:
Harriet Young, AAUW-AZ Public Policy Chair acted as Moderator. She reviewed changes in higher education from tightly structured classical studies to already degreed students with more diverse faculty, curriculum, and student body.
Dolores Duran-Cerda, Ph.D, Provost & Executive Vice Chancellor, Pima Community College, emphasized a discussion of equity within a wholelistic approach. Can never take away your education thus access to good education and resources is essential. Average age is 28 years. Pima Community College is focused on developing workplace partnerships with corporations. First community college in U.S. to offer courses in cyber security. Development of pathways to result in graduation in 2 years and change in required yearly credits to reasonable numbers are necessary.
Dr. Joanne Vogel, Deputy Vice President and Dean of Students, ASU , spoke of public trust- rebuilding with programs; money- cost and funding model; completion- solving education debt crisis. New Service University moves from research model to accessible education while maintaining costs. More entering education which will benefit the community. Relationships with Starbucks where students can earn admission through on-line courses is an example.
Dr. Marilynn Henley, Provost at Acacia University, On-line Graduate School for Educators, emphasized funding issues as key. Retirees are still paying for education. Teacher shortage is related to low pay and lack of respect for teachers. Acacia focus is on pre-12 education, teacher-training, mentoring to serve new incoming teachers. Have partnerships with Rio Solado College so students can transfer credit.
Linda Alepin, AAUW Tucson President, reviewed the AAUW-AZ Strategic Plan introduced at the Spring Conference last April She reminded us that we are stronger together and partnerships are important.
Kudos to the AAUW-AZ Program Committee for interesting and timely speakers; to the AAUW Northwest Valley Branch for a well-organized event and a fabulous, tasty plated lunch. [Photo of attending Branch members on 'Members Only: Photos' section.]
AAUW-AZ 2019 Spring Conference
What's Next in AZ?
Public Policy & Education at the Crossroads
A jam-packed AAUW program finished out the AAUW of Arizona 2018-2019 year. On April 6, 2019, Branch members Peggy Cherry, Joyce Ellenbecker, Tillie Fortner, Donna Haugland, Mary Humecke, Margaret Noser, Jan Peterson and Sandy Sheposier joined AAUW members from across the state in Glendale.
No time was wasted as Amber Gold, AZ Education Assoc. Director, began the morning
with a review of the 'Red for Ed' walk out and its consequences. Arizona is still #45 in the nation in teacher pay making $11,890 less than the national average. Anti-union is a tradition in Arizona but the teachers' union is more favorably viewed. 'Candidate Pledge' has been presented to Arizona legislators to support adequate funds of public schools which includes adjusting teachers' salaries for inflation. Priorities include: 1. Keep promise with full 20% pay increase in FY2020 rather than FY2021. 2. Accelerate restoration of district and charter assets rather than phase in over four years. 3. Increase building renewal grants for FY2020. Gold also reviewed NEA opposition to current legislation that allows loaded guns on campus and restricts voter registration.
"As the only organization tackling the gender pay gap on all sides–working with policymakers, employers and individual women–AAUW is making a real difference." –Julia Brown, AAUW Board Chair
AAUW National was well represented as Deborah Vagins, SVP Public Policy & Research, outlined current AAUW priorities which impact women for their entire lives: equity in education, pay, leadership and economics. Using a corporate grant from Coca Cola, pay equity is being addressed with the new on-line Work Smart program to assist women with their negotiation skills. The training is at the participant's own pace and takes about an hour. Vagins encouraged members to be a Two Minute Activist via text or email alerts to promote our priorities legislatively in Congress and Statehouse. AAUW's ability to be flexible and to move quickly where needed, depends on AAUW members donating to the 'Greatest Need Fund'. Finally, she reminded us that members can have impact at the national level by voting on the new board of directors and public policies.
"The power of AAUW is in each of us." -Linda Alepin, Tucson Branch
This past year AAUW of Arizona initiated the development of a State strategic plan. Linda Alepin, Tucson, reported that the discovery phrase resulted in three tenets: 1. Traditional
roots are still important and relevant. 2. Variations among branches exist. 3. People are looking for meaning and community through their participation. Category stations were set up around the room and members brainstormed ideas in each category. Ideas varied from standard practices to the extreme.
Sue Marceau, Prescott Branch, reminded members that AAUW is issue-based and does NOT endorse partisan candidates. We treat all candidates equally and encourage voter registration regardless of party affiliation. She then addressed "Advocacy in Action" with a detailed power point presentation. To be successful: 1. Know your subject. 2. Keep an open mind. 3. Be persuasive. 4. Show determination. 5. Keep talking points short, simple, and impactful. AAUW Powerhouse Politics Advocating Social Change AAUW-AZ April 6, 2019
Joanne Walen and Cathy Corbin-Mannino, AAUW of AZ Co-Presidents, conducted a short business meeting during which elections and installation of State officers for 2019-2021 were conducted. President- Ana Nygren, Membership VP- Michelle Higgins, Finance VP- Gail Garrison and Recording Secretary- Cathy Corbin-Mannino. Special recognition and thanks were given to outgoing board members Joanne Walen, (2 yrs Co-President); Margaret Noser, (4 yrs Recording Secretary) and Claudia Greenwood (10 yrs Community Action). [Member photos posted in Members Only section.]
Legislative Day 2019 Report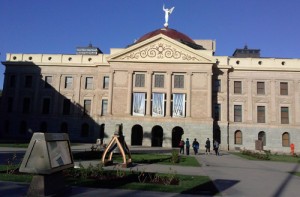 Legislative Day 2019, Tuesday February 26
Arizona State Capitol
Once again Southeast Valley participated in this annual event to bring AAUW priorities to our state representatives and increase our skills in political influence. Nancy Andrews, Peggy Cherry, Candace Cox, Joyce Ellenbecker, Tillie Fortner, Mary Humecke, and Jan Peterson joined approximately 50 AAUW members. [see photo on Members Only:Photo page]. Plans to have breakfast with our district Rep. Jennifer Pawlik (D) were disrupted when the members were called to the House floor. However, she waved when AAUW was introduced in the House. In addition Palm Cards listing AAUW priorities were presented to Pawlik, Rep. Jeff Weninger and Sen. J.D. Mesnard.
As reported by Sue Marceau in the Arizona Sun, spring issue, Joachin Rios, AZ State Director for the State Innovation Exchange (SIX), shared that SIX supplies legislators with policy research, communications and outreach supporting progressive issues. "Research, he said, is the 'bread and butter of the organization' which offers a series of 'policy playbooks'….that include media relations training … Rios suggested four tactics in working with lawmakers: Go to meetings knowing what you want and ask for it in a polite, friendly, yet firm manner; Elicit a better response by asking rather than demanding; Make an ask during each encounter; Follow up post meeting to remind them of the conversation and promises made."
Official lobbyist, Rivko Knox, the League of Women Voters, provided handouts regarding 'Right to Speak' system. She reviewed the 'powerful role committee chairmen have in getting bills heard'. Ratification of the ERA Amendment has been killed by Sen. Eddie Farnsworth every year it has been introduced, not allowing the committee or the entire Senate to debate the issue. Strike Everything bills, [using a bill which has met requirements but now has new unrelated text under the original bill number], often are introduced at the end of a session to avoid such roadblocks. More how – to Information and tips about influencing our representatives.
Fall Forum 2018
Making Your Voice Count
The 2018 Fall Forum took place early this year because the upcoming midterm elections are so important. Seven members (Toni Corrigan, Joyce Ellenbecker, Tillie Fortner, Margaret Noser, Jan Peterson, Jeannine Reynolds, Sandy Shepoiser) joined other AAUW members from across the state on October 6, 2018, in Mesa.
Bill Mundell, JD reviewed the reality of 'dark money' in today's campaigns and issued a strong caution to the voter. Ever since the U.S. Supreme Court passed Citizens United, -no limits on corporations or unions to spend money on campaigns – extreme, some say obscene amounts of money are being spent. In addition the Court left the issue of disclosure unanswered. With the passing of SB1516, Arizona made it easy to hide dark money and required its voters to be skilled detectives. Mundell stated that dark money folks have taken over the Republican Party and is starting to move in on the Democratic Party. Even if you are able to read the small print on multiple TV ads, you won't know who is footing the bill. He revealed some organizations funded by Pinnacle West, the holding company of APS: Coalition of Reliable Energy, Grassroots PAC Arizona, Republic Victory Fund, Edison Electric Institute. Or others fighting roof top solar: 60+ Association, and Prosper Inc. He also cautioned about the use of misleading terms i.e. referring to public schools as 'government schools' and in a negative tone to confuse the listener.
Anne Schneider, PhD focused our attention on the confusing aspects of this year's ballot measures. She included a helpful handout which outlines the misleading wordings which might lead to a citizen to vote the exact opposite then she intended. The League of Women Voters and The Arizona Advocacy Network have joined together to publish a comprehensive guide on each measure and includes organizations for and against each.
"After attending AAUW Fall Forum, I feel I can make a more intelligent vote this year on the current ballot." –Sandy Shepoiser
Changing the tone slightly, Basant Virdee addressed reviving civility in our lives by fostering constructive dialogue. The National Institute for Civil Discourse is based in Tucson and has been represented at numerous state meetings. In these particularly heated times, civility needs extra practice!
Mary S. Hartman, PhD. reviewed the history of the ERA Amendment movement beginning in 1923 and still waiting 100 years to be ratified. One argument against is that there are already laws preventing discrimination but some companies hire expensive lawyers to get around those 'pesky' laws. Republican legislators keep shelving the issue. Some think that equality for women is preposterous on its face; others argue: women out of the home is causing the break up of the family; if women get a promotion it will 'blow up' the family; it's ordained by God; women are taking good jobs away from men. We can't change hearts and minds, we can only change their actions. ERA supporters need to be mobilized. Perhaps Arizona will be the final state to get the ERA ratified or not. But it will happen.
Harriet Young, PhD, AAUW-AZ Public Policy Chair, was unable to attend due to an emergency but Harriet Young's Reading List was included in the packet.
One last comment: at the beginning of the day, the Girl Scouts led the flag ceremony and one little girl wearing a tiara and her slightly too large ruby slippers, which clomped on the wooden floor, stole the day!
AAUW of Arizona Spring Conference 2018
Women, Power, Privilege: An Honest Conversation
AAUW members from across the state and a few students from University of Arizona gathered in Tucson on April 7, 2018, for the AAUW of Arizona Spring Conference. Five Southeast Valley Branch members (Toni Corrigan, Joyce Ellenbecker, Tillie Fortner, Margaret Noser, and Jeannine Reynolds) participated in an in-depth exploration of power and privilege within the framework of civil discourse. The day was packed with interactive activities.
Basant Virdee, National Institute for Civil Discourse, gave us some helpful tips: Have respect even if you disagree; Practice staying calm; Stay focused on the speaker; Really listen; Allow for periods of silence; Discover the 'facts' as basis of the opinion; Connect on other levels than just the topic of disagreement. She outlined 'the third space' where you can stretch yourself in new ways by giving yourself permission to be open, free, transparent and honest.
Deanna Lewis, with a background in social justice, framed the story of 'women, power, privilege' by detailing the roadblocks of unconscious bias. We often make assumptions when we meet someone which can be problematic. We often take privileges for granted, not aware that those privileges are not possessed by all. How do we build community, rather than them vs. us – by becoming an advocate? What legacy will we leave for future generations?
The most impactful presentation to me was an activity called "Privilege for Sale Activity." We were given a list of privileges and offered the opportunity to purchase some with a limited amount of play money. I was surprised by many of the privileges on the list. Most of them were experiences I take for granted, such as "medical procedures that I deem essential are covered by insurance." "I am able to live where I choose and move when and where I choose." "I can be reasonably assured that my neighbors will be neutral or pleasant to me wherever I choose to live." "If I have a bad day, people won't attribute it to my sex or race." "I can give birth to and raise children without state intervention." "I can reasonably assume that police officers are people to be trusted rather than feared." Through the presentation, I realized that there are many groups of people who do not have these privileges. I got "woke" to much of the discrimination that exists in our society. –Toni Corrigan, Co-President
Sherard Robbins, Asst. Dean of Students at University of Arizona with a focus on equity and social justice, did the 'heavy lifting' by presenting a condensed version of his intensive academic course. This resulted in a mixed experience as due to time limitations, he had to skip or rush through many areas and the academic vocabulary used was often confusing. He stated that his challenge was to get people comfortable with being uncomfortable. According to Robbins, there are approximately 43.1 million people in the United States with 12.7% living in poverty (break down of 33.3% black; 31.8% Native American; 25.9% Hispanic; 1% white.) Privileges are advantages for particular dominant groups based within a social hierarchy. Dominant groups create systems which promote stereotypes and the population is socialized to perceive identity a certain way. Robbins challenged us to explore the concept of feeling 'safe'; of being venerable.
In addition to the program, a brief business meeting was completed to elect and install incoming State Executive Officers and announce scholarships and grant winners. Deb Dillon said her good-byes as she completes her term as Co-President. (Photo in Member Only Photos.)
Slate of Newly Elected State Officers 2018-2020
Co- President: Cathy Corbin Mannino, Sun City/Peoria
VP Finance: Ana Nygren, Tucson
Corresponding Secretary: Jeanette Polvani, Prescott
Co-VP Programs: Gail Parsons, Northwest Tucson
Co-VP Programs: Patti Allen-LaFleur, Prescott

Legislative Day 2018
Why AAUW of Arizona is lobbying for Equal Rights Amendment
The ERA was first introduced in Congress in 1923 and was reintroduced every year until its passage in 1972. The proposed constitutional amendment required three-fifths of all states to ratify the amendment before fully implementing the ERA. State legislatures were given until 1979 to ratify the amendment, and Congress later extended the ratification deadline to 1982. By the time the final deadline passed in 1982, 35 states approved the ERA, three states short of ratification.
We have sat on the ERA since then, until NOW began to agitate for Congress to extend the deadline again (Rep. Tom O'Halleran has signed on as co-sponsor). This will allow the recent adoption by Nevada and any two additional states to complete the Constitutional requirement of a 3/5 vote of the state legislatures to approve an amendment. Arizona should be one of those 2 remaining states to vote yes.
With this information at hand, the AAUW of Arizona voted last fall to make the adoption of the ERA by the Arizona Legislature a top priority across the state. Our Legislature Day Feb. 20, 2018 was dedicated to this effort. Rep. Pam Powers Hannley was the featured speaker, along with Rep. Michelle Ugenti-Riva and Rep. Athena Salman offering their views on the need for ERA. Rep. Becky Nutt offered welcoming remarks on behalf of the Speaker of the House, J.D. Mesnard, however, she did not indicate support for ERA.
Six Southeast Valley Branch members (Toni Corrigan, Joyce Ellenbecker, Patsy Ferrese, Tillie Fortner, Margaret Noser, and Jeannine Reynolds) joined over 55 AAUW members from across the state to show their support and discuss strategy. Ugenti-Riva suggested emphasizing that it is an equity issue, a human issue. Get our representatives into a one on one conversation and if not supporting ERA , get them to 'own their reason'.

Fall Forum 2017
Health: Expanding Our View
AAUW of Arizona held its Fall Forum on November 4, 2017, at the Yavapai College in Prescott. Branch members Toni Corrigan and Margaret Noser took the beautiful drive and joined AAUW members from across the state to explore some different aspects of health.
Women's Health: Forgotten Populations was addressed by Venay Uecke, RN, MSN, CNM, a practicing nurse midwife who shared the alarming statistics and history of Native American health challenges. Although a small portion of America's population, it is the fourth most identified population group in Arizona, representing 22 tribes and 6% of Arizona's population. Health care to Native American reservations is covered through treaties with the federal government and faces major challenges: extreme poverty with lack of basic utilities, vast distances and lack of transportation making distribution of services very difficult, and often, severe health side effects due to pollution of the land and water (uranium poisoning). Health care funding is only available on the reservation and Native Americans living elsewhere, must return to the reservation, which is often hours away, to receive services. Health care is not a isolated issue but related to poor housing, lack of employment options, lack of communication networks, and struggles between traditional culture and modern medicine.
Campus Safety: Potential Danger Zones focuses on students' ability to follow their education pursuits in a safe and supportive environment. Chief of Yavapai College Police Jerald Monahan, BS, MS, and graduate of FBI's National Academy, shared the campus police efforts to handle disturbances, provide necessary comfort and support, de-escalate situations to avoid violence, and handle crime, including sexual assault. Efforts are being made to train staff to identify and handle mental illness and stress-related behavior. Campus sexual assault involves alcohol 99% of the time. Often the victim (almost always the woman) is held accountable rather than the offender and she is often not considered credible by law enforcement. (i.e. Huge backlog of rape kits to be examined in Detroit because police did not believe the victim.) Victims are also now receiving support to report. Police are making efforts not to 'blame the victim' by placing the responsibility on the offender to have "clear consent" or he will be held automatically accountable.
A more 'outside-the-box' definition of health is Societal Health: Being Civil which was addressed by Raquel Goodrich, BA, MA, the Deputy Director of the National Institute for Civil Discourse. The Institute originated at the University of Arizona and is well-known for its 'Revive Civility' Campaign which encourages country-wide small group face-to-face and electronic discussions, on issues currently facing the nation. The country has experienced more changes in the past 30 years than the previous 300, causing greater stress and fear. Washington dysfunction has invaded our lives. She addressed the need to talk to each other across differences; to return to a 'healthy democracy'= Listen – Respect – Agree on Fact.
Goodrich gave us a five point list:
1. Approach with Curiosity Be curious, not judgmental. Promote open-ended conversation.
2. Practice Active Listening Pay attention. Ask open-ended questions; Ask probing questions; Request clarification; Paraphrase; Tune into feelings; Summarize.
3. Agree to Disagree Honor the relationship above trying to change the person.
4. Find Areas of Agreement Heal the division. Focus on that which unites vs rather than what divides.
5. Practice Staying Calm Plan ahead. Remember Intent vs Impact. Breathe and take breaks. Practice acceptance.
Forum participants explored starting within the family with 'Setting the Table for Civility' as a exercise for Thanksgiving dinner. For further information on all its programs and activities: www.revivecivility.org
Besides the excellent speakers, we had the opportunity to hear from two National Conference of College Women Student Leaders (NCCWSL) participants: Uzma Tahir, Northern Arizona University and Sara Chadwick, Maricopa Community College. Tahir mentioned her goals included supporting women in male dominated fields; focusing on housing in a in tough market and speaking to audiences broader than academics. Chadwick was energized by 'Elect Her' which inspires women to run for office. She was alarmed that women often come out of college with less self-esteem because under-represented in their fields. She herself is considering running for office.

AAUW-AZ Spring Event 2017
A Historical Perspective
The AAUW of Arizona Spring Event on April 14, offered a trio of opportunities, all close to home in Tempe. AAUW members from across the state assembled at the Arizona Historical Museum for a delightful lunch and a presentation by Linda Hirshman, author of Sisters in Law, a moving story about the first two women on the U.S. Supreme Court – Sandra Day O'Connor and Ruth Bader Ginsburg. Southeast Valley Branch was represented by seven members: Toni Corrigan, Tillie Fortner, Sue Garretson, Margaret Noser, Sheila Petriello, Jeannine Reynolds, and Marjorie Wright. Many participated in an optional private guided tour of the amazing Arizona Historical Museum AND a docent tour of the O'Connor House, next door.
The jam-packed day was developed by Shirley Talley, AAUW of Arizona President, as a"fun" conclusion of her two year term. She officiated at her final AAUW-AZ Board of Directors meeting and many participants witnessed the installation of new AAUW-AZ elected officers handled with skill and humor by Dr. Carolyn Warner.
Hirshman entertained the participants with some items from her book as well as tidbits about her research and recent U.S. Supreme Court events. Her principal subjects, Ruth Bader Ginsburg and Sandra Day O'Connor "had such great, yet different lives…one a Democrat, the other a Republican; one a liberal, the other a Goldwater supporter; one from Brooklyn, New York , the other from rural Arizona; one a Jew, the other a Christian: one a brunette, the other a blond." They formed a great friendship and both had the ability to work with powerful men. Both were ardent supporters of the ERA Amendment. After reaching the U.S. Supreme Court they did not pull up the ladder to future women. O'Connor vowed, "..ok to be the first, but I will not be the last."
Legislative Day 2017
School Choice and Educational Equity
Continues to be Debated
AAUW of Arizona Legislative Day never fails to inform and stimulate feelings of frustration and occasional hope. Eight branch members: Jan Bobbett, Tillie Fortner, Margaret Noser, Jeannine Reynolds, Marjorie Wright, and first timers: Joyce Ellenbecker, Jan Peterson and Sandy Shepoiser, joined members of other AAUW branches at the Arizona Capitol to listen to our representatives including House Speaker J.D. Mesnard, Sen. Katie Hobbs, and Sen. Sean Bowie address K-12 and higher education funding issues. No surprises that support of expansion of education vouchers appears to follow party lines with parental choice vs education equity being the emphasized points. [For details on education equity]
"Being perfectly honest, I found it fascinating listening to the two legislators field questions from our full AAUW group. I was impressed by their relative youth and how their answers reflected their world views which left no question in my mind that they were not of the same political party. The fact that they came across as rational moderates in this time of extremes gave me hope for our democracy in the hands of future generations."
– Jeannine Reynolds
Time did not allow discussion on voting rights, and immigration Hobbs gave some tips on connecting with legislators: be respectful, show up at campaign events, invite them to workplace, come to the Capitol to show that you are watching and that you care, and finally, don't assume, even if minority opinion, that your contact won't have an impact. [Review the background on Arizona education funding and other issues, then contact your representative to oppose the current expansion of the empowerment education scholarships.]
Jodi Liggett, Planned Parenthood, provided an update on current bills enacting further restrictions on women's reproductive rights and the status of sex education in the schools, which currently requires parents to 'op-in' to received sex education. She urged use of the 'Right to Speak' feature to speak out on bills and keep the pressure on our legislators and the governor. Liggett gave us a 'pep talk' on looking forward to 2020 census when new jurisdictions are determined and provide an excellent opportunity to change the face of the state legislature to include more moderates.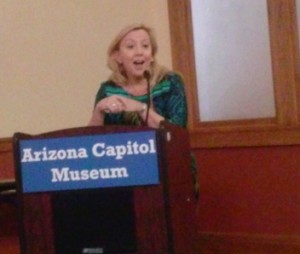 Devin Rankin and Quiana Diekenson, Arizona List, emphasized that every time women run for election–we win. The public becomes more accustomed to seeing women on the ballot. Whatever your passion, make it your issue.
Three branch members led by Bobbett, met with Rep. Jeff Weninger to discuss the recent AAUW of AZ resolution on school choice and educational equity. AAUW packets on legislation were distributed to the Sen. Steve Yarbrough and Speaker Mesnard's offices. After a brief lunch, Ellenbecker, Noser, Peterson, and Shepoiser joined other AAUW members in Senate gallery to be introduced into the minutes by Sen. Hobbs. They were present when a bill aimed to block Arizona cities, towns and counties from launching local ID card programs failed to pass. As reported in The Arizona Republic, this is the second consecutive year that Republican lawmakers have attempted to block Phoenix from providing an ID program that could provide thousands of residents, including undocumented immigrants, with a new form of government identification.
Bills are moving quickly through committees to the House and Senate floors. Don't delay, speak out. Resources to help you prepare to correspond with your government officials; Check out the AAUW Outlook, Winter, 2017 for excellent articles on School Vouchers, Human Trafficking, and Pay Equity, Click here for more information on multiple discussion topics. [Photos of branch members at Legislative Day 2017 posted on the 'Members Only: Photos' page.]

Spotlight on Arizona Education: Life After Proposition 123
A powerhouse of presenters reviewed the current status of Arizona education at the AAUW-AZ Fall Forum on November 5, 2016, at Scottsdale Community College. Branch members: Jan Bobbitt, Toni Corrigan, Tillie Fortner, Margaret Noser and Marjorie Wright, joined the large audience as Professor Anne Schneider, ASU retired, reviewed the challenges currently facing quality public education in Arizona: *adequate funding after Prop 123; *tax credits and the expansion of Empowerment Scholarships (vouchers); and *depleting the general fund through tax cuts; –—all part of a coordinated movement to defund public education.
'I thoroughly enjoyed the Fall Forum. All of the speakers were outstanding. I particularly learned from Richard Gilman, Founder of Bringing Up Arizona. As publisher of The Boston Globe, Gilman received three Pulitzer Prizes; including one for the paper's investigation of sexual abuse in the Boston Archdiocese. He reminded us that public education is a Public Trust and all of us are guardians of that trust. The threat is that the entire idea of public education is in danger.'
– Toni Corrigan, Co-President
Erin Eccleston introduced Expect More Arizona: Movement for World-Class Education, a nonpartisan stateside advocate for developing informed voters to make a collective impact. Last year 18,000 Arizona students dropped out which represents a loss of $7.6 billion over a lifetime.
* AZ voters consistently list education, above immigration and the economy as 'most' important. School funds and teacher pay are the top two education issues. * CEO's say education is AZ's top investment need. * AZ is the fastest in the nation in making academic gains [when at the bottom, only way is up]. * Top rated universities and high schools.
Top Needs for Arizona Education:
1. Need a 'roadmap' – setting long-term goals.
2. Long-term, sustainable solution for education funding; the pie is too small.
3. Hugh teacher crisis. 60% of new AZ teachers are leaving the classroom. Salaries are 75% of national elementary teacher average. 24% of workforce is eligible to retire in the next 2 years.
4. Students need post-secondary education to compete in the workplace. 68% of all jobs will require post-secondary education by 2020.
5. Imperative to close the achievement gap among minority low-income students.
Richard Gilman, Bringing Up Arizona, emphasized that 'Public Education is a Public Trust, and We Are All Guardians of that Trust'. In the AZ Legislature, there is a well-oiled movement to dismantle public education.
* AZ has more 'School Choice' than anywhere else in country and more charter schools. School Choice does not close the achievement gap. *AZ is one of two states that have school tuition available to any student.
* AZ is one of six states that have extensive Empowerment Scholarships, including multiple STO's and ESA's. Additionally ESA's do not permit any government agency to excise control or supervision of any non-public school or home school. They don't have to administer standardized tests or release demographics.
Tracey Benson, AZ School Board Association, described the role of school boards: set direction; establish structure; provide support; ensure accountability; advocate for community's students; allocate resources; hire a superintendent; set teacher salaries.
Big challenge today is leadership for equity. The AZ population is changing – 26% live in poverty and 51% is low income. The frequency and type of punishment administered to minority children need to be addressed. They need to be kept in school not more frequently expelled. AZEDNEWS.com
Mike Ellegood, an advocate for AZ schools, shared the features of an internet program, AZ Adopt a Classroom. Teachers can post specific classroom needs and website visitors can donate to meet those needs.
"Teachers: The only people who steal supplies from home to take them to work"
– Bumper Sticker, AZ Adopt a Classroom
David Garcia, ASU Professor, reinforced that equality in education leads to quality. Communities are forced to rely on overrides to do the Legislature's work. Need to change the focus from "efficiency" to "excellence." He shared copies of an extensive ASU research study, State of Latino Arizona: Sparking a community conversation about school funding, 2016. "This report shines a light on the inequities faced by our kids in our public education system, and confirms our suspicions of inequity with facts." "Too many Latino students are at an educational and funding disadvantage." "Schools with the highest enrollment of Latino students are also the schools most in need." [To see a copy of the entire report, contact any one of the members who attended the Forum.]
Yarden Tahan MD, Harriet Young, AAUW of Arizona Public Policy Chair, and Anne Schneiderfinished the day reviewing areas of concern in other key Arizona issues: Women and children's health; Equitable Wages; and review of Recent State Education Legislation. Members are encouraged to be diligent and hold our representatives- state and national accountable on the issues.

Spring Conference 2017
Sowing Seeds of Leadership


AAUW of Arizona State Spring Conference

The AAUW of Arizona, responding to requests from Arizona branches, organized a spring conference focusing on Leadership Development which took place in the north Tucson area on Saturday, April 2, 2016. Southeast Valley Branch was represented by Toni Corrigan (incoming Co-President), Tillie Fortner (incoming President-Elect), and Margaret Noser (Website Manager).

The trip had its challenges with an accident on I-10 which resulted in an extra hour and a half driving time. We were not alone on the highway and the State Board Meeting on Friday was delayed an hour to accommodate all those coming from the North. Once everyone arrived, plans progressed with the board meeting, dinner and the conference that next morning as planned.

On Saturday 70+ people gathered to learn and discuss legislative issues and hone our skills in leadership. We were fortunate to have AAUW National Executive Director Linda Hallman join us for the weekend to share what is happening at the National level.

Toni Corrigan commented, "I appreciated the presentation by Sharon Sandelands, President of Arizona League of Women Voters on Prop 123….. Sandelands presentation and the pamphlet that the League has prepared gave me a balanced and clear understanding of the complex issue. Jodi Liggett, Chairwoman, Phoenix Women's Commission, was another outstanding speaker on the gap between public option and our Legislature. These issues directly affect women and children in Arizona. The conference was informative and enjoyable."

What can we do to improve Arizona?
>>Improve Clean Elections
>>Fight 'dark money'
>>Protect Independent Redistricting Commission
>>Advocate for universities
>>Advocate for restoration of Voting Rights Act
>>Help create a culture of civic engagement

After a generous lunch, members divided into small groups to discuss various AAUW board positions using the goals of leadership as a framework. Tillie Fortner wrapped up the day, "The AAUW Conference was very interesting, meaningful and informative. I met lots of interesting new people from other branches of AAUW in Arizona. The Round Table discussions concerning duties and responsibilities of the various AAUW board positions, and creative ideas on how to increase membership in our branches will be very helpful for me in fulfilling my new position as president- elect next year. The speakers were great, especially, our Executive Director, Linda Hallman."
Legislative Day 2016
Funding of Arizona Public Education: a Hot Topic
Seven branch members (Jan Bobbett, Toni Corrigan, Madeleine Lutz, Elsie Lynn, Janet Odle, Margaret Noser, and Marjorie Wright) joined AAUW members from across the state to attend the AAUW of AZ 2016 Legislative Day at the AZ State Capitol on February 23, 2016.
O.k.Starting the day was an excellent panel on funding public school education including the proposed Prop 123. Dr. Anne Schneider, past Arizona State School Superintendent, acted as moderator and asked questions submitted by AAUW members. Participants represented both sides of the aisle: Rep. J. Chris Ackerley (Dist. 2); Rep Reginald Bolding (Dist. 27); Rep. Heather Carter (Dist. 15); Rep. Doug Coleman (Dist. 16); Rep Dr. Eric Meyer (Dist. 28). Scholarships for private schools (vouchers) "are a large drain from the general fund and privatizing the public school system…It is a disaster for the public schools." commented Rep. Meyer. Due to "lack of oversight, [tax] credits further exaggerate disparities between districts," added Rep Ackerley. In addition, "existing corporate tax credits for private schools automatically increase 20% a year!" said Rep. Carter.
Representatives differed slightly on their opinions of charter schools, yet felt that greater accountability was needed. Rep. Bolding believed in "choice – one size does not fit all." Rep. Carter added that "I support school choice but…charter schools should be accountable; they are public schools." Rep Ackerley commented that his frustration was that "[charters are] not a salable solution…don't serve all children so do not replace public schools."
The panel has strong support of Prop 123 because it is litmus test and if it fails, it will prove that the public doesn't care about public schools. Rep. Meyer injected that we "must support it because it is the only choice…Hope to overturn some of the objectionable parts another day." Rep. Ackerley agreed that the inflationary fund section needed to be reviewed but "vote for it." Rep Bolding had grave reservations and felt that we are being held hostage; we are being told that "the sky will fall. We are not there yet."
Lack of funding of Higher Education also was of concern to the panelists. Rep. Meyer reminded us that Arizona "spends more on prisons than colleges." Rep. Bolding lamented that "1 in 5 students do not attend college here." Although many colleges received corporate grant funding, those funds are targeted, not part of the general fund, so do not support the college as a whole.
After the panel, AAUW members were brought up to date on other AAUW legislative priorities: pay equity, human trafficking, women's health issues, etc. Members were encouraged to be diligent in their monitoring of Legislative activity and SPEAK OUT on bills impacting these important issues.
Some of our branch members stopped at the offices of District 17 Representatives: JD Mesnard and Jeff Weninger, speaking briefly and leaving the palm card created by AAUW of Arizona . After lunch, AAUW was introduced into the minutes in the Senate and the House and members observed the legislative proceedings from the gallery.
Fall Forum 2015
Is American Democracy at Risk?
Celebrating the 1965 Voting Rights Act: Gains, Losses and Next Steps
The 2015 Fall Forum was a collaborative series of events,October 29-31. AAUW-AZ with an assist from ASU West and LWV-AZ, celebrated the 1965 Voting Right Act, evaluated changes to voting rights over the years, and dialogued with DREAMers about challenges they face today. AAUW-AZ Co-Presidents, Jane Adrian and Shirley Talley, along with AAUW-AZ Program Vice President, Harriet Young, pulled out all the stops to put together a first rate conference.
Janet Cox, Marjorie Wright, Jeannine Reynolds and Margaret Noser trekked to ASU West in Glendale joining 60 others to explore various aspects of voting: past and present. Shirley Sandelands, President, AZ League of Women Voters and Linda Hallman, CAE Exe. Director/CEO AAUW Washington, D.C. welcomed us to this stimulating conference on voting history and current conditions.
"The vote is precious, almost sacred and the most effective non-violent means to impact change." – Warren Stewart Sr.
At the Activism Across the Years Roundtable, on Friday, AAUW Green Valley member, Bea Kable, 88 years, shared experiences of her native Oklahoma, describing scenes similar to the movie, The Help. She was one of the "founding mothers of Wisconsin politics" working 12 years to legalize birth control. Although raised in comfortable circumstances, she joined the civil rights march in Selma, AL, believing in the adage 'fair is fair'.
Edwardo Pagan, ASU and Stephan Nuno, NAU, reminded us of the past restrictions imposed upon voters to specifically discourage the poor and minorities from voting, i.e. poll taxes (even in Arizona); polling times and places not accessible; accessive, often multiple, demands for proof of citizenship.
DREAMers Elle Perez and Allan Lira shared the impact on their lives in high school when a lack of Social Security Number prevented them from continuing their education or getting a job. They felt frustration when the media doesn't cover student protests and they feel powerless.
On Saturday,Tom Collins, Exe. Director, Clean Election Commission, kicked off the conversation by providing a history of voting laws to answer Why was the 1965 Voting Rights Needed and What was Accomplished? Arizona needed a constitutional amendment to eliminate the poll tax as a part of voting reform. Federal laws prevented discrimination practices by states and any voting practices needed to be approved. Onus was on the states to prove a reason for change. However after a recent U.S. Supreme Court ruling this oversight has been removed, thus, only voting in federal elections is controlled. Arizona now has two separate elections: those who qualify to vote meeting federal guidelines and those who qualify for more restrictive state and local elections.
"Not Voting is essentially a 'NO' vote." – Stephan Nuno
Warren Stewart, Sr., D.M., Senior Pastor, First Institutional Baptist Church, spoke to the question, What were the 1965 Voting Rights Benefits to the Participation by African Americans? He emphasized the chief weapon of Negro human rights is the VOTE. There is no Negro problem; there is no Southern problem; there is an American problem. Every citizen should have the equal right to vote. The vote is precious, almost sacred and the most effective non-violent means to impact change. The elections of 2008 and 2011, proved that the shift of the Negro vote can greatly effect an entire election.
Stephan Nuno, Ph.D., Politics and International Affairs, NAU, addressed What is the Current Link Between Exercising Voting Rights and Policy Outcomes? relating that America's approach to voting is the complete opposite to its approach to gun rights. The first has all sorts of requirements; the second is absolute. It is obviously important to vote otherwise, there would not be those who are trying to restrict it. Not voting is essentially a 'no' vote.
Jodi Liggett, former CEO Arizona Foundation for Women and Chair of Phoenix Women's Commission, tackled the question, What Has Been the Role of the AZ Legislature to Restrict Voter Participation in Arizona? She reminded us that Native Americans could not vote in Arizona until 1948 when their service in World War II demanded it. "Voter fraud" is a made up problem but has been used effectively to convince the Arizona voters to pass voter restrictions in 2008. The Majority needs to take action to protect the Minority. Suggestions made: have several days of early voting which is less expensive than absentee ballots; make Election Day a National holiday to provide better access for all. She further challenged members to volunteer on Election Day to assist at the polls
"The Majority needs to take action to protect the Minority." – Jodi Liggett
Dennis Burke, Principal and General counsel of GSIS, examined What is the Role of the National Government to Ensure Voting Rights for All Citizens? and warned that states are moving toward more restrictions of voting rights—49 states have impeded voting access. One risk of the next election is who is charge of U.S. Justice Department and who will nominate candidates for the U.S. Supreme Court. Currently the JD is very aggressive in sending out monitors; a change in philosophy of the White House could change that. Questions/comments from the audience included the injustice of convicted felons, even after serving their terms, never being able to regain their right to vote. Also the impact of 'big' money and the length of the election process making it difficult for many candidates to survive the race.
After such stimulating presentations, a lovely buffet lunch was available and members were able to discuss among themselves. Branch members left the event with a great deal more information and lots to think about as we head into the 2016 election year.

Past Events>>>
Equal Pay Day 2015 Event
Time for Paycheck Fairness
This year, Equal Pay Day—the symbolic day when women's earnings catch up to men's earnings from the previous year–fell on Lilly Ledbetter's birthday on Tuesday, April 14. She came to Phoenix to speak at a luncheon in her honor at the Renaissance Phoenix Downtown Hotel. [click on sentence above to read news article] Along with over 200 guests, branch members, Marjorie Wright and Margaret Noser, listened to comments by AAUW National CEO Linda Hallman, AAUW-AZ President Jane Adrian, Dr. Carolyn Warner, Phoenix Women's Commission Jodi Liggett and Phoenix Councilwoman Kate Gallego before Ledbetter told her story and inspired the crowd.
Later that day, Ledbetter appeared on MSNBC's Hardball with Chris Matthews [click to see video] campaigning for wage equality. During her interview with Matthews, Ledbetter pointed to the importance of equal pay for women and families and described many of the obstacles women face in the workplace.
On the evening before the luncheon AAUW-AZ and the AAUW Scottsdale Branch hosted a Reception at former State Superintendent of Schools, Dr. Carolyn Warner's Paradise Valley home for 70 AAUW members from across the state. Branch members, Marjorie Wright and Sandy Shepoiser enjoyed her beautiful home which sported generous backyard seating among a wealth of blooming and leafy plants .
A highlight of the evening was the presentation by AAUW Scottsdale member Dr. Beverly Weiss of an unusual present to Ledbetter. A topsy-turvy doll hand made by AAUW member Jean Reed Roberts is a very unique type of doll whose design, while undergoing continuous modifications, predates the Civil War. It is a two-headed, reversible upside-down "symbol of power, of resistance, of secrecy, and of revolution". It was interesting that one of the dolls was wearing an EQUAL PAY button!
[Thanks to Marjorie Wright for her contribution to this report.]

Arizona Women's Conference 2015: Inform, Inspire, Ignite!
The 4th Annual AZ Women's Conference took place on April 11, 2015, at Scottsdale Community College. AAUW-AZ was one of the primarily sponsors of this event. Branch members Sandy Shepoiser, Marjorie Wright and Margaret Noser enjoyed being part of a very age – diverse crowd of women. They attempted to cover as many sessions as possible. As with any conference, some workshops were more successful than others.
To start the day, Jane Adrian, President, AAUW-AZ presented this year's Woman of Vison Award to Eva Putzova, Flagstaff Councilwoman/Director of Planning at NAU. She had tough competition including Dr. Camille Casteel, Superintendent, Chandler Unified School District, our Branch's nominee.
Gloria Feldt, President of Take the Lead, kicked off the day with her "No Excuses" keynote. She emphasized that 'Great leaders don't tell you what to do; they show you how it is done…Leaders get things done.' Women don't value ourselves as leaders. In fact, the proportion of women in a group is a high predictor of collective intelligence. The more women in leadership, the more money the company makes due to better solutions. Finally, 'Power unused is Power useless'.
Feldt continued her 'soundbites' in her workshop offering. She encouraged participants to 'create a movement' through the following steps:
What ignites you?
Who shares your concern? – don't isolate yourself, reach out to others, have courage to put it out there;
What needs to be done? – whom do you need to persuade?
Finally it takes persistence to reach your goals.
One of the most memorable presentations was given by Lori Regnier, VP, Starbright Foundation (starbrightfoundation.org), who spoke on sex trafficking and the agency dedicated to ending the sexual exploitation of children and teens. Phoenix is the second largest sex trafficking center in our country. The average age of those trafficked is 11 to 13 years with runaways and foster children the frequent targets.
The gorilla pimp kidnaps his victims from middle class or even upper class homes. He will often ship the child to another city where she is more helpless and less likely to be found. The romeo pimp, the most dangerous trafficker, hangs around malls and similar areas, romancing a child. He lavishes gifts and attention on his victim-to-be, and even sometimes comes to her house for dinner. When he has her in his power because of his professed love for her, he will tell her he is in danger because he owes someone money, and then will persuade her to have sex to earn cash to theoretically prevent him from getting beaten up. After this, he assumes his cruel, manipulative persona where he does not hesitate to inflict injury upon her for not meeting her daily quota money earned. Trafficked children are sometimes raped 20 times or more a day in order to earn as much money as possible for the pimp.
Young boys, as well as girls, can fall victim to traffickers whom they meet through Facebook, video games, and other social media. The children assume they are communicating with someone their own age, divulge personal information, and then are persuaded to secretly meet this person who turns out to be a trafficker. [Our Branch had a program on human trafficking in 2012. For further information on another excellent organization on the front lines of this pandemic, click here and scroll down to November 2012]
Sara Presler, CEO, AZ Foundation for Women (www.azfw.org), lively presented an overview of the work of the Foundation. SHE Counts! outlines the primary goals for women: Safety, Health, Economic improvement. Methods used include Research, Raising Awareness, and Funding Innovative Programs. Every year they publish the Report on the Status of Women in AZ reviewing the funding and impact of five years of cuts in state-funded and/or state-implemented programs on AZ women and children, and what that means to Arizona's future.
Some very alarming statistics: More than ½ million of Arizona's women are poor. 79% of single-parent families with incomes below the poverty level are headed by women. Only 1 of 5 of the most common occupations for Arizona's women provide economic self-sufficiency.
The Foundation has also been working with ASU Morrison Institute for Public Policy and the AZ Coalition to End Sexual and Domestic Violence to explore the critical issue on how society addresses its ambivalent attitude towards violence, particularly in professional sports; how it defines "good" vs "bad" violence; and how it can instill values in young people that prepare them to distinguish one from the other.
Mike Hayashi got everyone on their feet with some tips on Self-Defense for Women: Take Control. He advised all women to consider three self-check points to be more secure daily- Could it happen to me? Could I stop it? Am I worth fighting for? He reviewed the standards of being alert and aware of your surroundings, i.e. having keys in hand, walking with a friend.
It is human nature to feel FEAR when attacked. Use anger to offset that fear to allow you to act and get away. Vital strike points are eyes, ears, throat, and knees. One ploy is to make the attacker believe that you are no threat. Hold both hands up approximately head high, cup them saying, "Please don't hurt me! I'll do what you want me to do." Then as the attacker relaxes, step in closer and slap your hands over his ears at the same time (don't practice this as it is very painful and can rupture the ear drums) or grab his throat up close to the chin and squeeze hard which will interrupt air intake. If able to kick, go for anywhere in the area of the knees even from the side.
Kay A. Strawder, JD, MSW spoke on Women's Mental Health and advised to protect ones mental health it is important to form positive relationships, use one's ability to reach one's potential, deal with life's challenges and enjoy life.
[Thanks to Sandy Shepoiser and Marjorie Wright for contributing to this article.]

Legislative Day 2015
On a beautiful day to see our Arizona government at work, eight branch members (Jan Bobbett, Janet Cox, Sue Garretson, Janet Odle, Margaret Noser, Jeannine Reynolds, Pauline Schutes, and Marjorie Wright) joined AAUW members from across the state to attend the AAUW-AZ 2015 Legislative Day at the AZ State Capitol on February 25, 2015.
During the morning session we met in the historic AZ Capitol Museum, (the photo usually shown to represent the AZ Capitol). Jane Adrian, AAUW-AZ President reminded us of AAUW's amazing reputation among other groups as a "get things done" organization. With 1000+ branch members, 550 national members, and 3400 Action Alert supporters, AAUW is a "force" in Arizona. That being said, it is so important for ALL of us to remain diligent in monitoring the actions of our state legislators.AAUW state leaders provided updates on priority AAUW-AZ issues.
Education (Joye Kohl):Arizona needs to fully fund its public schools and stop expansion of tax credits which deplete the general fund and promotes inequity among districts. Stop appealing court decisions using tax payer monies. Arizona is and even greater for women of color. Lilly Ledbetter is again coming to Arizona on April 14, 2015 to help promote equity issues on Pay Equity Day.

Women's Reproductive Health (Jodi Liggett): stop yearly attempts by a powerful ultraconservative lobby to chip away at women's reproductive rights with 'reasonable restrictions' which result in loss of access to reproductive health care, particularly in rural areas, including contraception and sex education. Taxpayers again end up paying costly legal bills fighting these unconstitutional laws.
Human Trafficking (Beth Jacobs): hard work resulted in the victory of getting HB2553 which vacates convictions for trafficked survivors to the House floor; now we need to work to get it passed then start the entire process in the State Senate.
Pay Equity (Jean Johnson): the wage gap is still 78¢ for white women and greater for women of color. [See Pay Equity Day]
Dr. Anne Schneider, past ASU Dean of the College of Public Programs and Professor in the School of Justice Studies, continues to study the Arizona legislature and writes a newsletter, Arizona Legislative Alert. She reviewed tips on how to effectively dialogue and influence our legislators. (scroll down to "Legislators are People Too.")
Members adjourned to visit with their legislators. Four members of our Branch met with Jeffrey Weninger, a former Chandler teacher, and were pleased to discover that he is in favor of Arizona paying the public schools the funds they are due. Printed materials were also left with J.D. Mesnard's assistant along with a personal note.
Members discovered a surprise for lunch when six food trucks parked outside the Capitol. "A cup of clam chowder was so much more appetizing than a beat-up peanut butter and jelly sandwich." Margaret Noser. After a pleasant walk in the park across from the Capitol, there was time for conversation with other branch members and state leaders or exploration of the museum.
In the afternoon, members sat in the galleries of the Senate and the House to be introduced into the legislative record. Former State President Claudette Haney once again gave the prayer in the Senate. She cautioned us not to snicker or cheer when she said the line: "…These women and men need Your help…"
[Additional photos on the Members Only:Photos page.]

Fall Forum, 2014
Arizona Women: Ever Changing, Ever Evolving – like Patterns in a Kaleidoscope
Unique by Sharon Gale
Twelve Branch members (Toni Corrigan, Janet Cox, Sharon Gale, Donna Haugland, Margaret Horn, Margaret Noser, Betty Raveret, Jeannine Reynolds, Paulette Schutes, Helen Semple, Sandy Shepoiser, Marjorie Wright) attended the 2014 AAUW-AZ Fall Forum on October 18, 2014. Thanks to State President Jane Adrian we were fortunate to meet at the A.T. Still University in Mesa, with top of the line technology in the meeting room and the opportunity to explore their mesmerizing 3D anatomy lab, designed for the medical students of the ATSU School of Osteopathic Medicine.
A.T. Still University (ATSU) is the founding institution of osteopathic healthcare, established in 1892 by Andrew Taylor Still, MD, DO. As a leading health sciences university, ATSU is comprised of two campuses on more than 200 acres located in Mesa, Ariz., and Kirksville, Mo. ATSU's six schools include the School of Osteopathic Medicine in Arizona, Arizona School of Dentistry & Oral Health, Arizona School of Health Sciences, Kirksville College of Osteopathic Medicine, Missouri School of Dentistry & Oral Health, and the College of Graduate Health Studies. Learning environments include residential and online healthcare and health sciences degrees, as well as community-based partnerships worldwide. ATSU has more than 700 employees dedicated to its not-for-profit mission and an average
Besides supplying the inspirational image for the Forum (see above), Sharon Gale did her decorating magic to welcome all participants. A Southeast Valley committee, lead by Paulette Schutes, wowed members with fantastic morning and lunch food spreads. Donna Haugland compiled the attractive, organized program for our day.
Presenters tackled important topics: Kerry Blume helped members explore "Building an Inclusive Culture" through small group discussion during the morning session. Blume is the former CEO of United Way of Northern Arizona (1998-2013). She is now a consultant training leaders, organizations, and communities in an array of transformations, including diversity. Through her distinguished leadership, Blume successfully reached out to the diverse communities of Northern Arizona – Native
In shifts, participants explored the "Human Body Inside Out" tours of the Virtual Anatomy Lab, conducted by Dr. Anna Campbell. Viewing a human leg and foot floating in the air made memorizing muscle groups exciting!
Information on "Dark Money and Shadow Campaigns: Influening Arizona Elections", presented by Robert Kelty, Ed.D.. historical overview of the economic ideology that has lead to Dark Money. Dr. Kelty is an award-winning fourth-grade teacher, former Superintendent of Schools for Coconino County, and current Senior Managing Director of Teach for America. He presented an academic summary of the impact of undisclosed money on elections, with an emphasis on effects in Arizona.
Terry Goddard and Michele Reagan were invited to respond to Dr. Kelty's presentation. Goddard made an appearance to condemn the use of dark money to influence AZ legislation.

Conference on the Status of AZ Women 2014 sponsored by AAUW-AZ
Two members, Jeannine Reynolds and Margaret Noser, attended the Conference on the Status of AZ Women – Primarily the Younger Generation – 2014 on April 12, 2014. They were impressed with the open facilities of the ASU West campus. The day consisted of two main panels of AZ college students from ASU, ASU West, UofA, NAU and moderated by Mary Rothschild, ASU; an update by Jodi Liggett, Planned Parenthood AZ and a keynote by Sara Presler, AZ Foundation for Women. Some 'key' thoughts of the presentations:
Young women are not joining organizations so what new ways are we going to work for fairness and equity?

Role models are changing for students. Why should they care about these larger issues?

Sexual violence is an issue on campus – perceived as a 'women's issue'. A "blame the victim" culture exists. Police officers need training and a willingness to 'believe' the victim.

Women with multiple identities – student, mother – face demands for child care and often settle for "associate degree" level rather than aspire for higher degrees.

Women would benefit from a mentor but just working hard does not result in an offer. They need to ask.

To 'rekindle the bonfire', bring political identities on campus. The young don't know what is at risk and that rights are being eroded. There are students that want to be involved but find it difficult to find time. Women feel less qualified and less interested in running for office.

Hispanic populations face compounded difficulties. They must cooperate with police for protection yet feel threatened. Great power in the word 'illegal'. They often face issues of discrimination and migrate violence.
The Arizona Foundation for Women (www.AZFW.org) 2014 Report on the Status of Women: State of Arizona Women is available on line: http://grandcanyoninstitute.org/sites/grandcanyoninstitute.org/files/WFSA-AFW-GCI%20Programs%20Supporting%20Women_March2014.pdf [Margaret Noser has printed out one copy for reference.]

Legislative Day 2014
WITNESSING HISTORY
The 2nd annual AAUW Arizona Legislative Day was held Thursday, February 20, 2014, at the Arizona State Capitol complex. Women from AAUW branches all over the state convened at the event, including nine members from the Southeast Valley Branch. Unbeknownst to Jan Bobbett, Toni Corrigan, Margaret Horn, Victoria Martin, Margaret Noser, Janet Odle, Jeannine Reynolds, Paulette Schutes, and Marjorie Wright, they would witness an historical Arizona event later that day. The day began by attending a crowded Senate Education Committee hearing where many controversial bills get their start. During the opening AAUW session, Jane Adrian, AAUW-AZ Public Policy Chair, introduced one of Governor Brewer's staffers who updated us on the status of the Human Trafficking issue. John Kavanagh from Fountain Hills welcomed our group as did Bob Robson from Ahwatukee (one of the brave 9 that 'broke ranks' with his party to support Gov. Brewer's Medicaid expansion last year) . Lisa Maatz, AAUW's National Public Policy Advisor, gave attendees lobbying tips and reviewed AAUW's work in Washington, DC, before members visited their representatives and/or senators. Our Southeast Valley group visited Representatives J.D Mesnard and Tom Forese where we presented our Issues Packets and discussed our AAUW positions on Education, Reproductive Rights, and Voting Rights over lunch. In the afternoon all AAUW attendees were officially recognized in both the House and the Senate. We were very visible in our teal clothing. In the Senate, our AAUW-AZ President, Claudette Haney, gave the opening prayer. In the House of Representatives members witnessed the debate of SB1062- the bill that allowed the discrimination against gays as well as other groups under the guise of religious freedom. Needless to say, the gallery got a bit rowdy, so the guards escorted several visitors out during the ruckus. The House passed SB1062 and sent it onto Governor Brewer for her signature. The rest, as they say, is history. (Review the Issues Packets presented to the Representatives and go to "Members only:Photos" to see photos from the day.)

Fall Rendezvous 2013
"Members Make a Difference"
Nine Branch members gathered with other state AAUW members on October 26, 2013, to attend AAUW-AZ Fall Rendezvous in Mesa. Jan Bobbett, Toni Corrigan, Donna Haugland, Margaret Horn, Margaret Noser, Janet Odle, Jeannine Reynolds, Paulette Schutes and Marjorie Wright participated in Position Roundtables and explored the topics of 'Across Generations' (communicating with young women); Arizona's 51st Legislature in Review; and updates on the Task Force on Human and Sex Trafficking. This event was hosted by the East Mesa Branch. SOME PARTICULARLY INTERESTING TIDBITS: Mesa Mayor Scott Smith, a 4th generation Arizonan, welcomed the assembly. Mayor Smith currently is the President of the US Conference of Mayors; the first AZ to serve in this position. He emphasized the importance of education in the advancement of America's future. Members were invited to participate in a number of Roundtables. Jan Bobbett reflected on her experience, "[One roundtable] was on fundraising. I listened for new ideas and shared thoughts about next year's trivia event for raising funds for scholarships. More seasoned fundraisers liked the idea as long as we can make it fun and profitable. There were other roundtables to prepare members for various leadership positions. We always learn the best strategies from those who have worked in the trenches before us." Three amazing young ASU women (Carrie Robbins, Meredith Clark, Alicia Woodbury) shared their views on what young women want and need . Their combined paraphrased comments follow. Networking serves different purposes for men and women: men-information based; women-relationship building. Many young women today are victims of a consumer-driven culture. The concept of a 'poor' student or the willingness to sacrifice appears to be disappearing, and adding to the student's financial burden. It is amazing today what young women do not know. Huge amounts of information are easily available yet much of it is fluff and/or inaccurate. What's true? What's relevant? Most students come from a very protected generation and see feminism as passe. These young women take their rights for granted and fear 'being political'. They further reminded us that young women need to be mentored to become responsible, active citizens; the how and why to follow local politics. [One of the goals of the Sandra Day O'Connor House that we heard about last year in one of our branch programs.] Programs need to be phrased to catch the attention of young women – to relate to them. AAUW's Tumbler (social media) needs to be driven by young people in order to appear relevant, so they will take the time to pay attention. Dr. Anne Schneider, retired ASU political science professor, reviewed the last AZ legislative session with some 'tongue in cheek' humor.
'Kookie' stuff – [if you recall Laurie Roberts, the AZ Republic, had numerous columns about 'dekooking' the Legislature] the famous 'bathroom bill' and 'birther bill' are examples.
'Sneaky' stuff – the 'strike everything' procedure allows a legislator to advance a controversial bill that can't make it out of committee by taking a different bill with a totally unrelated title that's already passed committee, gut its contents and substitute the contents of the controversial bill and sneak it through at the end of the session.
'Slippery Slope' stuff- the 'camel's nose under the tent' type of bills that appear innocent enough but set the ground work for much more serious attacks later on i.e. voting rights and reproductive rights.
In addition to these questionable behaviors, the Republicans who currently have control of both houses, practices the 'Hastert Rule' in which they won't bring any bill to the floor that won't pass with a Republican majority. In other words, no possibility for bipartisan or compromise available to the Democrats or other smaller parties. [Thought up by Dennis Hastert R., Illinois (who died in 2007 and left the Senate in disgrace) when he was speaker of the house. The "majority of the majority" rule… A power play to strengthen the speaker and diminish the influence of the minority.] Furthermore, many legislators utilize ALEC, a very well funded nationwide group that writes and promotes extremely conservative bills for state legislatures, i.e. privatizing public education through private charter schools without government oversight. [Jan Bobbett has a video on ALEC available for use.] Gov. Jan Brewer demonstrated great political strategy in working around all the above obstacles to get her budget, the Medicaid Expansion and additional funding for AZ universities and K-12 schools. Dr. Schneider's last words emphasized that members need to be vigilant in monitoring legislators behavior particularly extreme groups, encourage legislators not to waste time on nonsense, communicate with your representatives to give them input from those other than their core base; and attend AAUW-AZ Legislative Day in February. The final speaker for the day was Julia Brown, recently elected AAUW VP, who presented an update on national and Arizona plans to eliminate Human and Sex Trafficking. [Current members will recall that this was the topic of the November 2012 branch program.] For the details of her presentation and other background on this topic, go to "Advocacy:Discussion Topics:Human Trafficking".

AAUW-AZ Convention April 5-6, 2013 Report
Theme: Stars in Our Pocket (Click on image to enlarge page and read entire report)
Legislative Day – 2013
Legislative Day, February 7, 2013 AZ State Capitol
Legislative Day 2013, took place with 73 AAUW members attending from around the state including 9 from Southeast Valley Branch. Scottsdale had the largest delegation with 25. This was not a march but rather a "meet and greet" event. AAUW was read into the record of both houses. Representative-elect LD 2 Andrea Dalessandro, an AAUW member, welcomed the AAUW delegation and introduced them on the floor of the House. State Senator Michele Reagan, LD 23, introduced AAUW on the Senate floor. After a morning of various speakers on a wide variety of topics plus visits from a number of legislators, such as State Rep. Andy Tobin (LD 1) who is Speaker of the House, we attempted to meet with individual legislators over a box lunch. The AAUW-AZ covered the cost of the legislators and AAUW members were able to purchase theirs for ($6/ea). Although conflicts arose that day preventing our district legislators from joining us for lunch, our delegation split into three groups to meet the assistants of each of representatives from LD 17. Issues Packets had been prepared earlier and left with each assistant. Knowing how to reach our representatives is extremely important as bills are discussed in committee or voted on the floor. Jane Adrian, our AAUW-AZ Public Policy chair, was the dynamo who spearheaded this successful day. She is registered as a lobbyist at the Capitol and will keep as updated throughout the current session. Jan Bobbett and Victoria Martin, our Branch Public Policy chairs, lead the organization and preparation of the Branch delegates. We have been asking AAUW-AZ to take the lead and now they have. The day was very stimulating and a great beginning to a dialogue with our representatives! View the Issues Packets given to the legislators on the Advocacy section of this website. Please also go to the Advocacy: Current Issues/Events on this website for Urgent Alerts requiring action on our part.